VARIETY NIGHT at Boulevard Music in Culver City, CA

My wife Cali Rose and I host Open Mic Night. "Do it or review it." A fun night out!
Tickets are $4 - Doors open at 7:30pm - Show at 8:00pm
• • • • •
Get Serious About Uke at the California Ukulele Academy
Alpine Meadows Retreat, CA - Oct 26-28, 2012
Join me, my wife Cali Rose, Sarah Maisel, and Jim D'Ville as we conduct uke lessons at a beautiful mountain retreat center tucked into the San Bernardino Mountains. Get serious about adding to your ukulele skills. I will be teaching workshops on Finger Picking and Chord Melody. From Friday evening October 26 to Sunday morning October 28, meet us at Alpine Meadows Retreat, and share our ukulele "immersion" weekend. Information-packed classes fill the days and ukulele jam sessions fill the nights. The weekend includes all of your delicious meals, cabin accommodations and a full schedule of classes for every level of player. Your favorite instructors and performers are ready to work with you to get serious about the ukulele!
You can find the full class schedule on the event website - hope to see you there!
• • • • •
Cali Rose and I are honored to have been asked back to
the Ukulele Society of America's Kanikapila.
We had a blast last year and plan on having more fun this time!
Bring your uke and come and play with us!
Thursday, June 28, 2012 from 6:00-9:00 pm
Ocean House • 300 Carlsbad Village Drive in Carlsbad, CA 92008
• • • • •
I will be joining Cali Rose performing and teaching
workshops at the Mighty Mo Ukefest in New Haven, Missouri
Friday, July 20 - Sunday, July 22, 2012
• • • • •
Scroll down for archived news items
• • • • •
I'll be performing at the Fourth Annual Reno Uke Fest
March 29 - April 1, 2012
My wife, the talented Cali Rose, will also be at Reno!
• • • • •
A New Single and a New Remix!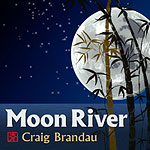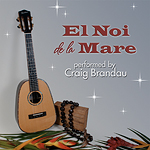 I've just released the Henry Mancini classic "Moon River."
This tune will be included in my upcoming book, "Chord Solos for the Tenor Ukulele."
I've also re-released El Noi De La Mare, after giving it a much needed remix
and mastering treatment.
Both songs are available on iTunes, Amazon as well as CD Baby.
• • • • •
Hawaiian Public Radio's
"Music from Across the Hawaiian Island" Volume 2
I am honored to have been part of this project!

Click on the thumbnails for larger images.
• • • • •
Craig's latest single "El Noi de la Mare" released!
Available on CDBaby, Amazon and iTunes.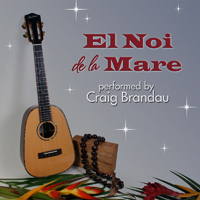 El Noi de la Mare
An MP3 single by Craig Brandau

• • • • •
Craig's latest CD "Try to Remember" is available now!
Order yours now and get "Tenderly" for half price!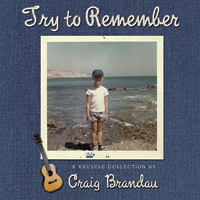 Try to Remember
A Ukulele Collection by Craig Brandau

• • • • •

My wife Cali Rose and I have been included in a new compilation ukulele CD...
"The (Not Yet) Legendary Play Uke Album Vol. 1"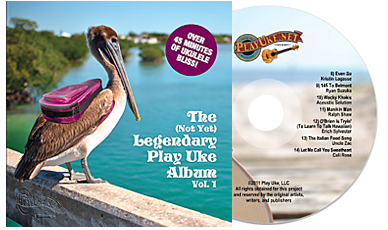 Listen to samples, read about the artists and purchase at  playuke.net

Featuring my recording of "Craig's Waltz," and Cali's "Let Me Call You Sweetheart," this CD showcases the instrument in styles ranging from minimalist folk to fully arranged ensemble. It also contains several songs that demonstrate the true soul of the ukulele, unabashed pure fun!