Reviews of Craig's Latest CD "Try to Remember"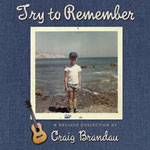 • • • •

I'd never thought I'd ever see my name in Japanese! I was surprised and honored when a Japanese vinyl and CD retailer, Disques Dessinee, contacted me in regards to my latest release. Well, "Try to Remember" is now for sale on their website and recently mentioned in their review blog! I even received a "Special Recommendation."
Check out the images below - screen shots of their website - all in Japanese.
• • • •
"…"Mona Lisa" wraps up the CD. When I hear this tune, I can't
help but think of the rendition played by Tommy Emmanuel.
This is, however, the best rendition I recall on ukulele. It's a
fitting end to an excellent CD."
— Ukulele Player Magazine
Read the entire review here (PDF)
and from the Culver City News...