"Somewhere" by Craig Brandau
Audio CD, released July 2015

$10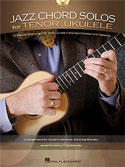 Jazz Chord Solos for Tenor Ukulele
Book with CD accompaniment
$19.95 + priority shipping $5.60

California residents pay sales tax.
"Try to Remember"
CD by Craig Brandau

$10

"Tenderly"
CD by Craig Brandau

$10

---
Are you ready to expand your ukulele playing skills?
Take a ukulele lesson with Craig via skype and learn the basics of fingerpicking and chord melodies. All you need is your ukulele, beginning-to-intermediate playing skills, and a skype account. $30 for a one-hour lesson. Please e-mail info@ukulelecraig.com to arrange a time and date before paying for your lesson.