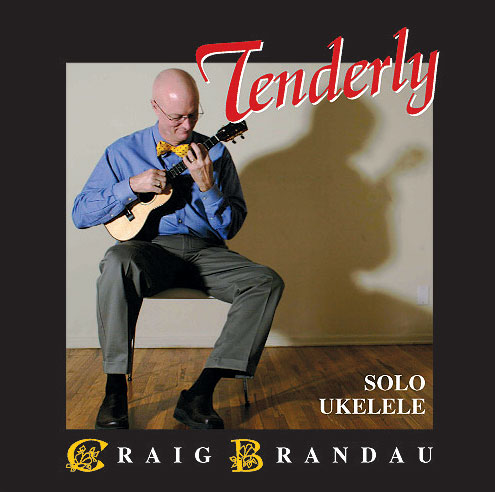 Audio CD by Craig Brandau, ©2009
Solo Ukulele by Craig Brandau.
"…it's a real KEEPER… What I most appreciate about your work is STYLE. This style makes it much easier for listeners to hear the music and how the instrument so effectively interfaces with it… When's the next edition????"

Legendary Ukulele Master, Kimo Hussey
---
Buy now:
CD available at Amazon.
Streaming and downloads available at Amazon and Apple Music/iTunes store.
---
Song List:
Tenderly Lawrence/Gross*
Black Orpheus Bonfa/Maria*†
Here, There And Everywhere Lennon/McCartney†
Moonlight in Vermont Blackburn/Suessdorf*
feat. Simeon Pillich, Bass
Here's That Rainy Day* Van Heusen/Burke
On The Street Where You Live Loewe/Lerner†
The Days Of Wine And Roses Mancini*
feat. Simeon Pillich, Bass
Theme from "Blood Monkey"* Ryder/Olins
What A Wonderful World* Weiss/Thiele
What Are You Doing The Rest Of Your Life? Legrand†
Craig's Waltz Heitmeyer
The Shadow Of Your Smile* Webster/Mandel
Bonus Track:
Craig's Waltz performed by Howard Heitmeyer
* arrangement by Howard Heitmeyer
† arrangement by Craig Brandau
More music from Craig Brandau